In many applications, modern inverters are the key component of a cleverly designed solution. They are true masters when it comes to open- and closed-loop control of motors.
Lenze's inverters are scalable and always offer you the right solution for speed and torque-controlled motion and for position-controlled single- and multiaxis motion, perfectly tailored to your own specific requirements.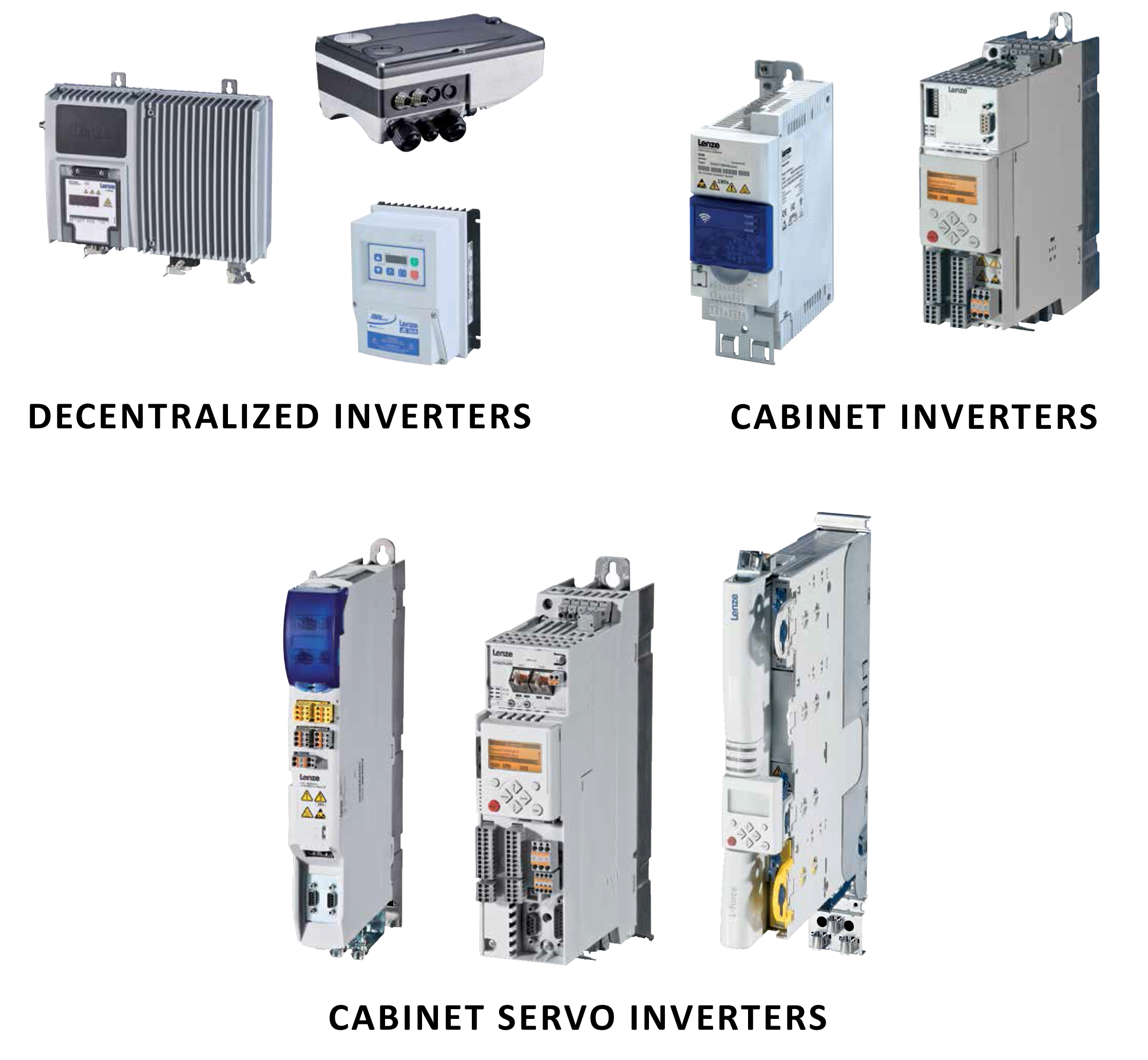 LENZE INVERTERS – SERIES I700 SERVO CONTROL MULTI-AXIS
Servo Inverters for dynamic motion in multi-axis applications. Single inverters from 0.75 to 15 kW / 2.5 to 32 Amp and dual inverters from 0.75 to 7.5 kW / 2.5 to 16 amp.
These inverters are controlled by a Motion Controller via EtherCAT network and CIA402. Particularly suitable for packaging machines and robotic applications.
LENZE INVERTERS – SERIES 9400 AND I950 SERVO CONTROL
Servo inverters for dynamic Motion applications. Product range from 0.37 to 240 kW / 1.4 to 460 Amp. These inverters have the required resolver or encoder feedback options, communication options, IO options. They support both synchronous and asynchronous motors.
Inverters can be controlled by Motion controller via CIA402 or on board FAST application software modules.
Particularly suitable for the processing of continuous material in the packaging, steel and converting industries, perforating paper webs in the printing industry, winding in the textile and storage technology in the field of Intralogistics.
LENZE INVERTERS – SERIES I500, 8400
The i500 is the new inverter series in the 0.25 to 110 kW power range. Its distinguishing features are a streamlined design, scalable functionality and exceptional user-friendliness.
The i500 inverters are ideal for applications in the pump, fan, conveyor, travelling, winding, extruder, tool and hoist drive sectors.
LENZE INVERTERS – SERIES 8400 MOTEC, PROTEC, IP65
Lenze 8400 protec, 8400 motec and SMV IP65 decentralised frequency inverters available from 0.25 to 7.5 kW.
Designed for a high degree of protection for decentralised applications available in either motor-mounting or wall-mounting versions. These Lenze inverters are Decentralised application advantages are a reduction in cables, reduced EMC and small main panel sizes.
These drives typically used in automotive and Intralogistic applications.
SMV FREQUENCY INVERTERS
The new SMV range of IP65 inverter drives offer sophisticated auto-tuning, fast dynamic torque response with impressive low-speed operation all from a compact and simple to use package. Ingress protection to IP65 allows for use in outdoor applications and indoor environments where atmospheric moisture is present or low pressure water jets are used.
The SMV range is designed for motor applications where dynamic speed and torque control is demanded, making the units ideal for conveyors, food production lines, packaging equipment plus fan & pump systems.
Power Ranges
Voltages:
120/240 V, 1? (up to 1.50 Hp [1.1 kW])

200/240 V, 1/3? (up to 3 Hp [2.2 kW])

200/240 V, 3? (up to 20 Hp [15 kW])

400/480 V, 3? (up to 30 Hp [22 kW])

480/600 V, 3? (up to 30 Hp [22 kW])
Overload:
150 % overload for 60 sec's

200 % for 15 sec's (up to 10 Hp [7.5 kW])

180 % overload for 15 sec's

(15 Hp to 30 Hp [11 kW to 22 kW])